Leinster House (also known as
the Houses of the Oireachtas)
This is the home of the Irish parliament.
Our tour included a visit to the Dáil and
Seanad Chambers. Members of the Dail
Eireann are known as the Teachtai Dala
(TDs) and they are directly elected by the
people at a general election.
The Seanad serves as a second chamber
where legislative proposals approved by
the Dail are reviewed and any suggested
amendments passed back to the Dail.
Admission is free, but tours (Monday to
Friday at 10.30 am and 2.30 pm) have to
be arranged in advance. (I have read that it
is possible to get in on a walk-up tour, if you
are lucky. )
Government Buildings
Our tour included a visit to the office and
meeting rooms of the Taoiseach (Prime
Minister of Ireland).
In 1989 the building was extensively
renovated and refurbished to provide
modern accommodation for the department
of the Taoiseach, the Office of the Attorney
General and the Department of Finance.
The Government Buildings was originally
intended as a home for the Royal College
of Science, then housed at 51 St.
Stephen's Green. It was the last significant
building project undertaken by the British
administration in Ireland. The project began
in 1904 and was completed in 1922, in time
to be occupied by the new Irish Free State
Government. Cabinet meetings have been
held in the North block of the complex ever
since.
City Hall
Our tour took us into the rooms of the
Dublin City Council meetings.
The commission for Dublin's City Hall was
awarded through an architectural
competition that attracted great public
interest. The design included a grand
entrance rotunda covered by a wide
coffered dome. It was Ireland's first Neo-
Classical building and also the first public
building in Dublin to be clad in Portland
stone. The building was adapted for Dublin
Corporation in 1852 by Samuel Roberts
and the original layout was restored in 2000
by Paul Arnold Architects. All Victorian
divisions on the main floor were removed to
open up the space.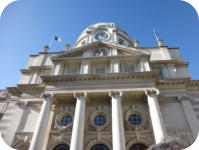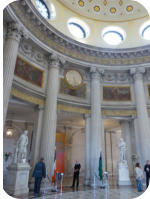 Ireland's Parliament and Dublin's Council
Click on an image to see a slideshow