Our Namibian Journey
Our itinerary was as much a safari of landscapes as it was of the wildlife.
Our group of 11 travelled in a combination of light aircraft and 4x4 vehicles
to access some remote areas of the country, and best experience the
geography and enormity of the landscapes. Our journey in Namibia
presented us with some spectacular scenery. Every evening we had a
'sundowner' which usually involved a drive to some amazing viewpoint to
watch the sunset with an evening drink. It was an amazing experience!
Click on any image to view a larger version / slideshow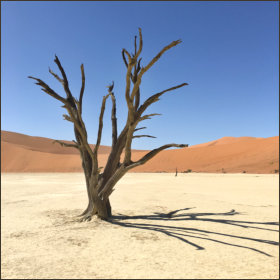 The Land and People
Water affects the very core of the country, shaping the dramatic variety of
landscape and sustaining its living beings. It's extraordinary that the animals
and plants have adapted to such a dry climate, with some areas having no
water for 10 or more years. The population is dependent on groundwater for
their livelihood. More than 100,000 boreholes have been drilled in Namibia
over the past century.
Inhabited from an early age by the San, also known as the "Bushmen", invaded
by the Bantu, colonized by the Germans (who called it 'South West Africa') and
taken over by South Africa after WWI, Namibia finally gained independence in
March 1990. Namibia is the 34
th
largest country in the world (3 times the size
of the UK) yet has only a population of 2.1 million people.

Etosha
- Etosha opened its gates to tourists
for the first time in 1955 although it
has existed as a protected area for
more than a hundred years. It was
proclaimed as a national park only in
1967.
- Although Etosha is best known
today as a spectacular refuge for an
abundance of animals, it is also a
part of the world that is providing
critical evidence for the existence
and evolution of ancestral animals.
The rocks in the hills near Halali
have revealed fossil life as old as 650
million years.
Hoanib & Skeleton Coast
- This wasteland is a result of the
Benguela current, dense fog and rough
surf - the cause of many seamen's
doom. Famously, the Dunedin Star
crashed here in 1942. When two
rescue boats went to its aid, they sank
as well.
- It's home to Namibia's famous desert
elephants that are known to surf sand
dunes like snow-boarders. Other
inhabitants include the black rhino,
lion, cheetah, giraffe, oryx, zebra and
springbok.
- Between the Hoanib and Kunene
rivers, the northern part of the park is
only accessible by light aircraft (per
government regulations).
The Namib Desert
- At 55 million years old, the Namib
Desert is the oldest desert on Earth.
Homo sapiens have only been on
Earth for 200,000 years and the
Sahara is only 6000 years old.
- With just 8mm of rain a year,
Pelican Point, at Wolvis Bay, is one of
the driest places on earth.
- Despite its dryness, some areas of
the desert experience up to 120
days of fog every year.
- Incredibly the desert is home to
almost 3,500 species of plant, some
believed to be over 1000 yrs old.
Namibia makes a big impression – it's a vast arid land of remarkable diversity
with endless deserts, huge dunes, dramatic canyons, captivating scenery,
beautiful sunsets, lions roaming in the deserts, and it's very sparsely populated.